Blues & Brews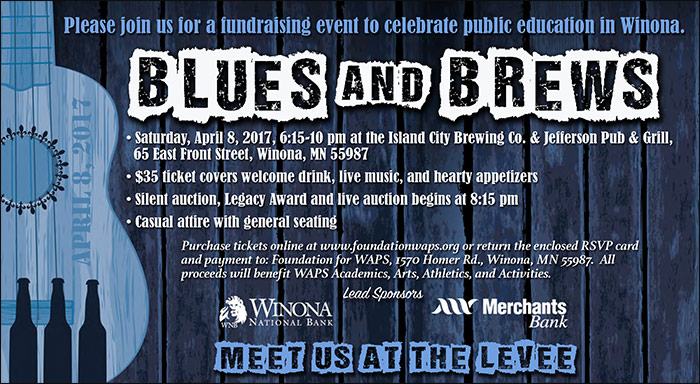 Please join us for "Blues And Brews" on April 8, 6:15 – 10:00 p.m. at Island City Brewing Co. and Jefferson Pub and Grill, a fundraising event to celebrate public education in Winona.  Tickets are $35 and covers welcome drink, live music, and hearty appetizers.  Silent auction, Legacy award, and live auction begins at 8:15PM.  Order tickets below!
I wish to order tickets
Click the order button below to reserve your tickets. You may wish to pay via Paypal or Check. Questions? Contact support@foundationwaps.org
I am not attending, but wish to make a donation
If you are not attending, you may make a donation by clicking the donate button below.
---
Apply for the Dare to Dream Grant
The Foundation for Winona Area Public Schools encourages and supports the creative spirit within the District with an opportunity to apply for a grant to completely fund a new, innovative program up to $5000. The Dare to Dream grant is offered annually to all District Staff. The grant seeks to support new ideas that will enhance learning or provide new opportunities for students of the Winona Area Public Schools. All submitted grants will be reviewed, and one grant will be chosen as the $5000 Dare to Dream Grant winner!
Deadline: Friday, February 10, 2017
Click here for full details on how to apply!