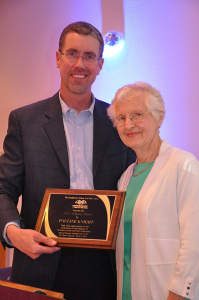 Each year, at the Foundation's Gala, we have presented a Legacy Award to a citizen or organization that shows exemplary support and commitment to the Foundation for Winona Area Public School's goal to enhance education, support Winona Area Public Schools and its students, and show dedication to community.
The foundation's 2015 Legacy award was presented to Pauline Knight. She was one of a small team of people who recognized years ago the need for the Foundation for Winona Area Public Schools to be formed. She was instrumental in recruiting its first Executive Director, Jim Hanzel, organizing efforts for the foundations beginnings, and so much more. Pauline served as the first recording Secretary of the Foundation. She always knew that the Foundation would be an instrumental tool for making a difference in the lives of students. She explained, "After all, the Foundation is about the kids."
Thank you, Pauline, for all you have done, and continue to do for the Foundation for Winona Area Public Schools. You are truly a gift!