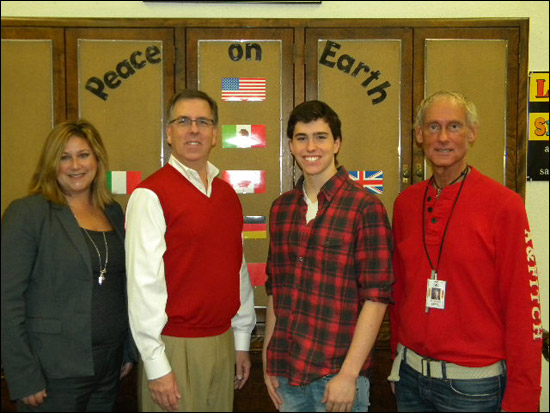 The Foundation for Winona Area Public Schools is pleased to announce the winner of the annual $5000 innovation grant, the 2013 Dare to Dream Award. The purpose of the award is to foster the creative spirit within the District and the 2013 winners are Luke Merchlewitz of Washington-Kosciusko's Elementary School and Cal Dretske, a senior at WSHS, for their Global Forum.
Luke and Cal's grant request was to engage students into the Global Forum by getting them involved in an action-based service learning project that focuses on water in our world. They found research that shows students who learn about global problems are more than twice as likely to see the point of personally undertaking social action. Globally-minded students are more likely to exhibit tolerance and acceptance of religious, cultural, and ethnic diversity. Multi-age WK students will engage in the Global Forum where they will learn to investigate the world, recognize different perspectives, communicate their thoughts and ideas and actively implement change. The students will be part of a social return on investment as they plan to bring back what they learn to all of the students at WK, so they too can learn and understand global issues. The project plans to involve other institutions, such as the city of Winona, WSU, and the International Institute of Minnesota.
The Foundation for WAPS was thrilled with so many applications and once again congratulates the 2013 $5000 Dare to Dream grant to the WK Global Forum-Bringing the World to Winona!!
The Foundation for WAPS is a non-profit 501c3 organization dedicated to enriching and expanding educational opportunities for students in Winona Area Public Schools. For more information, please call Shelley Milek at 494-1004 or log onto: www.foundationwaps.org.